LET'S GET READY FOR THE SHOE FALL!
So for today I would like to introduce some of the fall line up of all footwear that I think would accommodate us whether we have to go work, jogging, running, dancing, walking, those are just a few to name. Now the majority of the shoes that I will display will be some that I have actually had the pleasure of trying on myself (sorry no camera just yet so I can display, but coming soon) or just from my experience with the brand and style of the shoe all together. I recently saw a some styles that are becoming a trend of thick heel strappy that cover partial amount of the foot and peep toe's are still in. Thank goodness, I love a peep toe to show off my pretty pedicure. So Let's get started, and please feel free to give me your opinions as well. Tell me if you like the shoe for the color, style, brand, or comfort.
Worthington "Mercury" Boot sale $69.99 reg. $100 jcpenny
Rate: Fashion and work wear, but the some women have a hard time wearing a boot because it doesn't fit the calf (yeah me too). So we find it very hard to find a cute boot that will go around the calf. Oh how we wish we could get into those thigh high boots even though some are made of stretchy material, its still kinda snug and can be uncomfortable. But this next one will be a great solution for that.
St. John's Bay "Rory" Mid Calf Boot sale $69.99 reg $100 jcpenny
Now with this mid calf boot, you won't have that problem of trying to zip around that calf, it comes just about mid calf and it has some style and can be comfortable as well.
n by Nicole Miller "Alexandria" Bootie sale $69.99 reg $100 jcpenny
Oh yes and my favorite, the peep toe bootie, but don't you think for one minute if its cold outside that pretty pedicure will be showing, oh no, no no! So this bootie definitely has some style and fashion because of the two textured patterns combined, and comfortable on the feet too.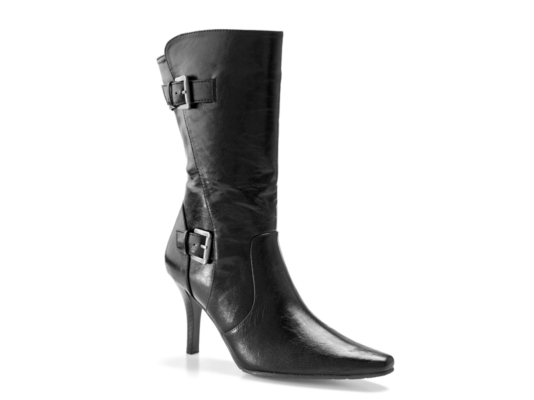 CL by Laundry "Simile"
Boot $44.95 DSW. com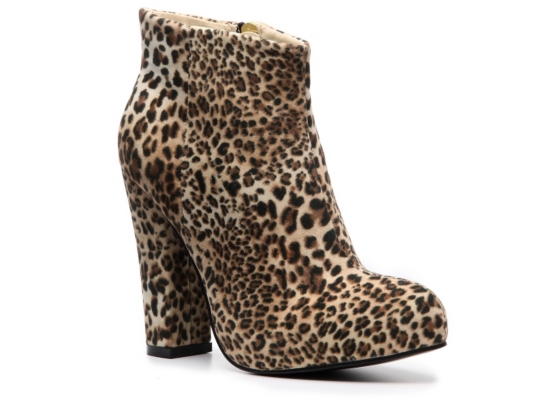 Diba "Sumner" Leopard
Bootie $49.95 DSW.com
SM Women "Ace"
Boot $49.95 DSW.com
Here are a few more that are great for those of us with wide calves that allows us to be fashionably stylish and to give us that confidence to know that we look and feel good. You know why, because we have some happy feet! The first pair CL by Laundry are great for work or dinner but please ladies love your shoe, if your heel is bending when walking that means its not for you, a thicker heel will look much better. The Diba would go great with anything from a pair of dress slacks to a pair of jeans. I absolutely love that kinda of shoe because I'm getting my money's worth. Now with the last pear that is made out of sweater material, you can't go wrong with that because the boot upper half will conform to your calf of any shape, but you can only wear casually.
Multi Strap Boot $148
Fringe Boot $148
Over the knee Wedge Platform $128
All compliments of Colin Stuart Victoria Secret all are currently on sale at the website VictoriaSecret.com
Both by Kelsi Dagger Riding Boot $249 or Ankle Bootie $149 VictoriaSecret.com
UGGaustralia
Edmonton $350
Belcloud $275
Aprelle $350
Kaylee $160
Cailyn $240
Elyse $170
All by UGGaustralia.com
Wow! I am so glad that UGG has broaden their collection to appeal to the everyday woman and incorporate different styles. I wanted to get about eight different pairs myself due to my adoring the UGG brand. They have comfort most of all in boot on a cold rainy or snowy day, and durable too. Quality of material on the shoes and boots are excellent. Now they have so many other styles to choose from, I couldn't include them all, but go to the website and have a look!
So for the rest of the week, I will continue my quest to be ready for the shoe fall. Until tomorrow!