UPDATE!!!! SAW THESE AND THOUGHT YOU MIGHT LIKE
Badgley Mischka "Janni" Red Satin $235.00 Zappos.com
Just lovely aren't they, the peep toe small platform pump is simply gorgeous in this red satin material along with the accent of red jeweled on the toe makes this shoe look stunning. I love the heel as well because its not too skinny and it will give you the right amount of support while dancing the nite away at that Christmas party, maybe wearing these will make you go ask that special someone you've been blushing about.
I have come across some pretty elegant red beauties that your feet will love.
Luichiny "First Lady" Wine $89.99 Heels.com
Oh how I would love wearing these as I slide into them and feel the snug red suede hug me tight. Oh we are will look great with something in winter green or a nice plaid that will enhance the color.
Diba 'Kit ten" Red $79.99 Heels.com
Now this red boot is gorgeous and has a wedge too, you know how I like them. This 3 inch wedge and soft suede will allow comfort for you as you take a walk in the park or on a snowy day when run to the mall.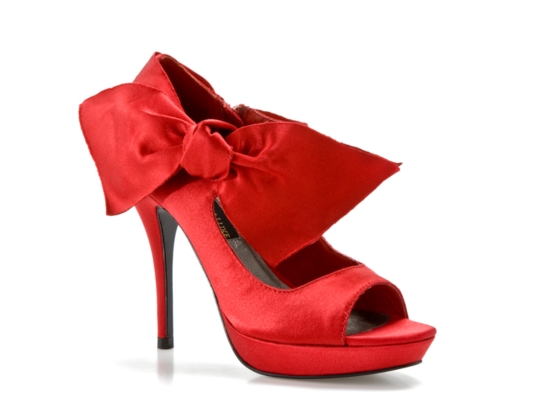 SM Luxe "Zesty" Pump $59.94 DSW.com
On a brighter note, this cutie will look good for your festive holiday party this year accompanied with s short gold sequin dress or an off white ensemble with sure to have all eyes on you.
Poetic Licence "Egyptian Princess" Pump $79.95 DSW.com
Somehow this caught my eye and I wanted to share it with you, because the platform pump and red color would look great with jean or casual outfit. But to give you a laugh, maybe when you wear them and tap your heels together 3 times and make a wish and wake up you'll have everything your heart desires, or at least know that you look awesome.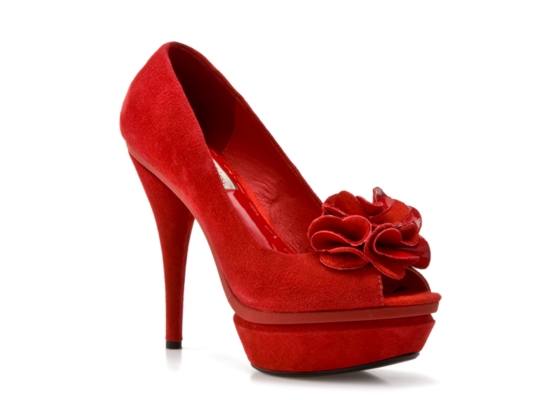 Two Lips "Primrose" Pump $69.95 DSW.com
Wow another red platform pump that had a lovely heel to grace your feet as you wear them to work or another holiday party of course with a cute short black ruffle dress or for work in your brown suit.
Michael Antonio "Terah" Red Suede $69.99 Heels.com
Double strap suede platform in red is a beauty but this can only be worn this fall in the deep south where your toes won't freeze. This red pump is more of a casual shoe that is for those divas that like to dress up everyday or for those entrepreneurs. Its a love strap pump that will curve your foot and give you support on the ankle as you strut in style.
Two Lips "Ryder" Boot $159.99 Heels.com
A graceful red tall boot that can be dressed up or down meaning casual or business attire. This stitched leather boot with a buckle around the ankle makes it a really sexy high heel boot. A tall high heel boot will definitely give you some warm when you wear this sexy red boot.
Now for the more relaxed look of red beauties

b.o.c by Born Batik Flat $49.95 DSW.com
A printed flat that will give you comfort because Born provides a cushy insole for the more active woman that has to be on her feet all day and still look good.
Naughty Monkey "Fruitloop" $59.99 Heels.com
A red studded sandal that you can wear to show off your fresh pedicure on that casual off day or a pair that you can have around the office to whine down and relax.