SOME NEW FAVES FOR THE PRINT LOVERS
Vince Camuto "Elanie" Pump $89.00 Dillards
Taking a walk in these lovely leopard print pumps on your work day will certainly liven up that all black suit anyday.
Sam Edelman "Ria" Bootie $160.00 Dillards
Now if you're needing a little more coverage, this is a great pick to also add some appeal to a all black wool suit or a really nice black sweater dress to embrace that cold winter day.
Sam Edelman "Uma" Boot $250.00 Dillards
Wow, is all I can say with this one! It is paired with array of prints all in one and would be lovely again with some mocha wool pants, dark rinse skinny jeans, and a sweater dress. A must have if I must say.
Jessica Simpson "Landy" Platform Pump $89.00 Dillards
For those ladies that are snake lovers, but without really actually owning one, this print is perfect to make you feel like you've conquered that big python with every strut you take. This is great in detail and color to go with anything.
Nine West "Aroundtown" Mary Jane Pump $98.95 Nordstrom
I think this is really cute work shoe for the office and the colors are gorgeous for this platform pump. You could wear this all day and feel light on your feet because of the stability it will provide. I love how the "1920's style is making its way back into fashion. I would wear this pair with something that will not cover it up to show the beauty of the pump.
(1)
(2)
(3)
Luichiny Giraffe print Heels.com
(1) "Jam Ming" Wedge $84.99 (2) "Just for Fun" $89.99 (3) "Au Brie" $84.99
These are some really sexy giraffe prints that I believe should not be allowed in the work office, much too appealing and attention grabbing. So on your day that you want to just feel and look your best, grab one of these and put on your best outfit maybe some really nice flared, skinny, or straight jeans and a cream colored sweater, add a poncho maybe and feel like you won the lottery with a pair of these on your feet.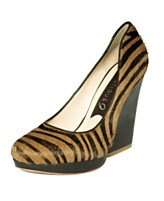 Boutique 9 "Victorie" Pump reg. $160.00
Macy's
This partial wedge is great in design and print. I love the tiger print with the black leather platform to be accompanied with a nice wool fitting purple or red attire, preferably a pair of wide leg dress pants or sweater dress. What soothes your soul for the beginning of the day. I would grace this with a red pair of dress pants or skinny/straight jeans on a more casual level and add a cream colored top, purple top or red on red.
Sperry's Top Sider Boat
(1) "Bahama" Oxford $75.00 Dillards (2) "Snake" Boat Shoe $89.95 Nordstrom
Sperry topsider with prints allow you to make a statement when you wear them casually on your day off or just because, and they will definitely have them checking out your feet to say "oh now those look good". So when you want to run to the grocery store, slide these comfy pair on and enjoy your day.
House of Harlow 1960 "Kye" Loafer $195.00 Nordstrom
A loafer that is combined with leather and leopard print can be paired with some nice dark pair of jeans or black khaki pants and you can also add a leopard print top with a solid black under shirt or turtleneck for one of those relaxed book reading days at Barnes & Noble or the park with your tablet or book reader to enjoy a nice sunny day.